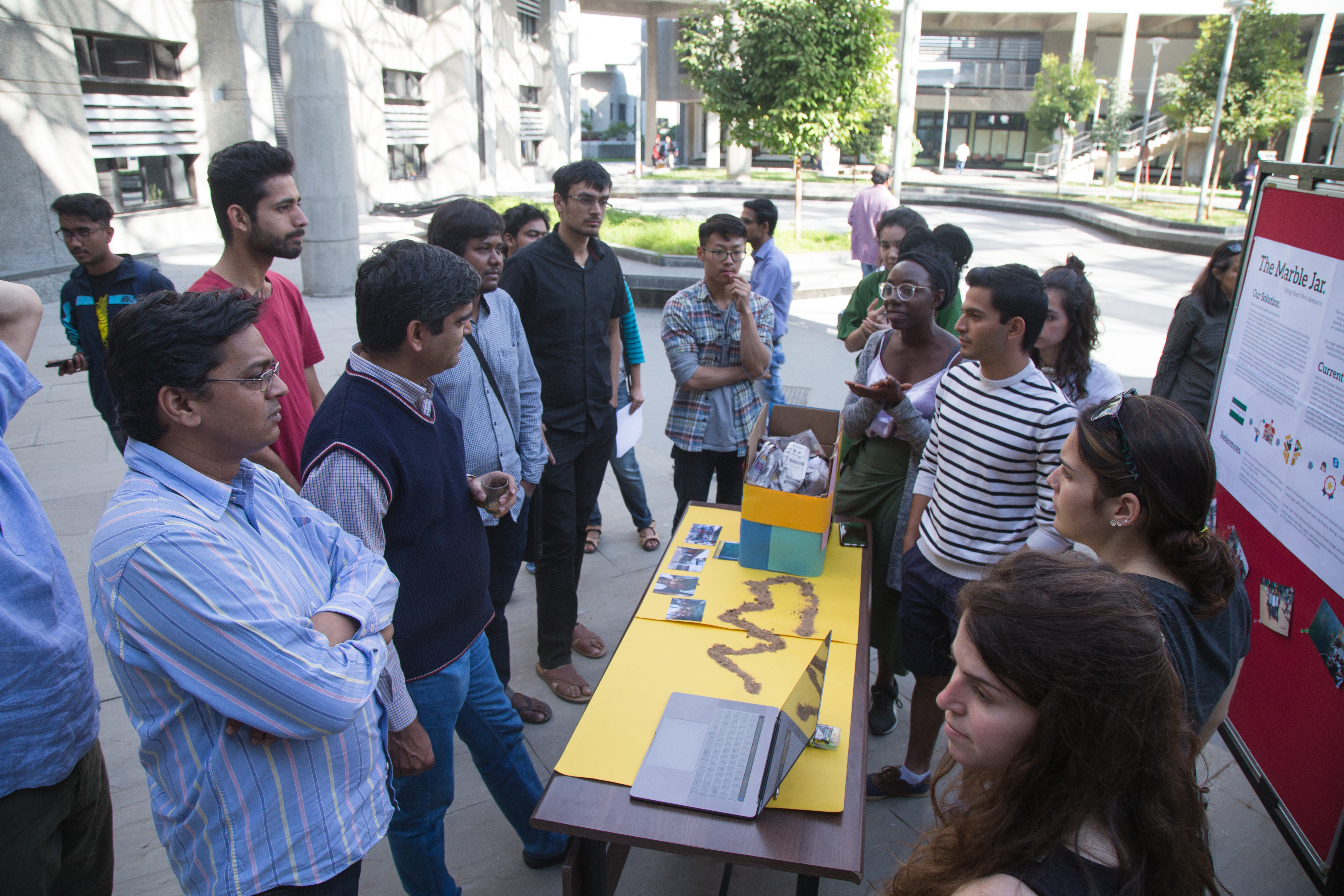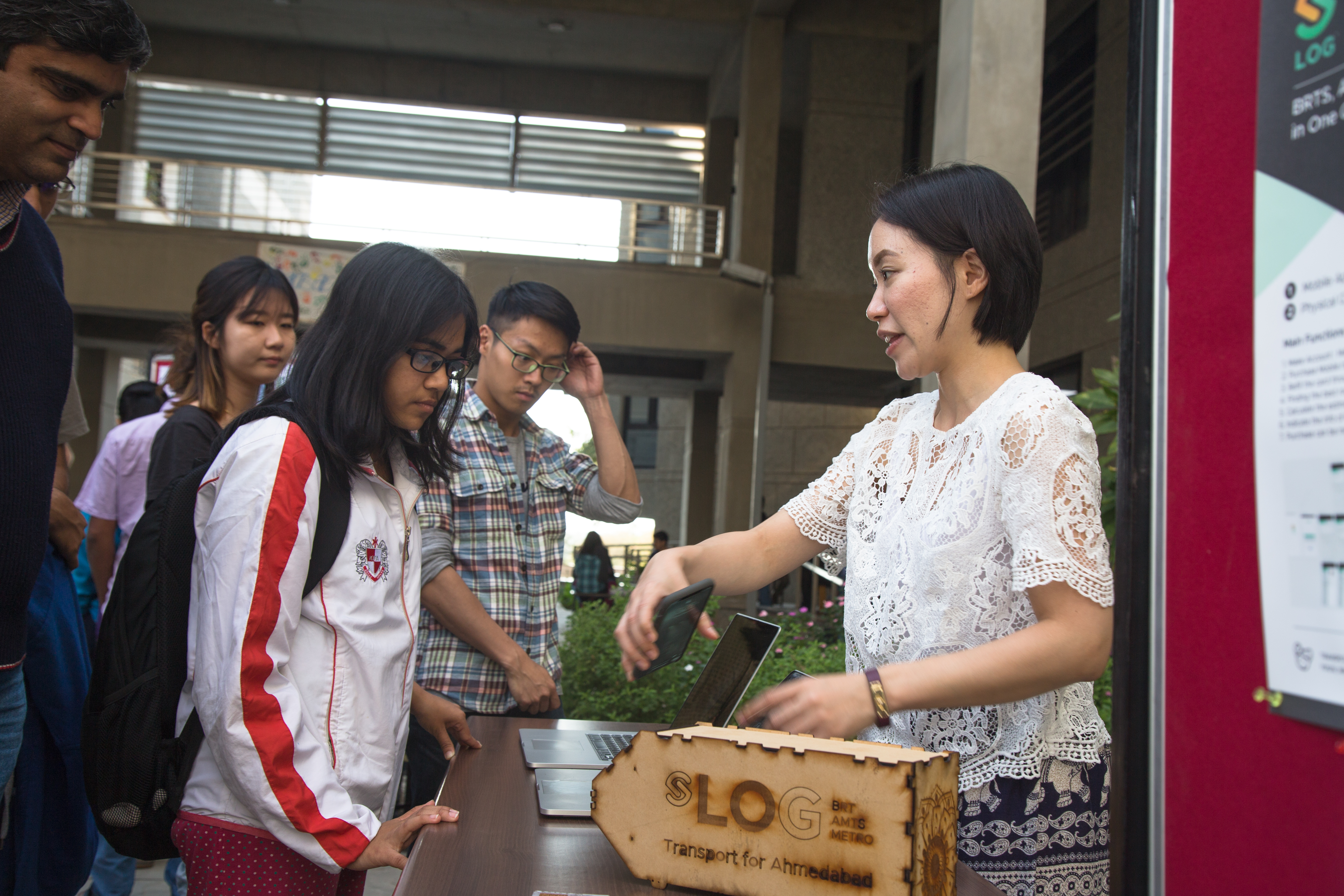 It is wonderful how students 'not from India' get involved in finding solutions to core problems 'in India'. It is a mark of friendship and humanity. This year, we have identified five great solutions that would go a long way in improving hygiene, education, water management, among others. We will now look at implementing these solutions and widening the impact nationally.
The one-of- its-kind "Design for a Billion" workshop was hosted at Indian Institute of Technology Gandhinagar (IITGN) during January 8-19. The two-week programme was organised for the first time for students of The New School (TNS), New York. A total of 28 students and two faculty members from TNS participated in the workshop.
The workshop is a cross-disciplinary event that discusses the implications and future of mass impact design. The design process which interweaves the theoretical and the empirical, research and applications, market pragmatics and social idealism, encourages its participants to come up with innovative designs to solve real-life problems. As part of the course, the TNS teams attended lectures on various topics viz. materials, manufacturing and mechatronics.
The two-week design programme facilitated field trips to Palaj village and Ahmedabad city, where the participants identified social problems and came up with solutions to tackle them. Prototyping sessions were also conducted for the students, who were divided into five groups. The teams found solutions for various problems related to waste management, village ecosystem, education system, water management and bus transportation. The solutions were conceptualised by the teams on the basis of field trips, surveys and feedback of end-users.
Five interesting innovations have come to fore this year, by way of designing and conceptualising. These include Saaf Mahavari (clean menstruation), TransPotatoes, Village Wash, The Marble Jar and Sachet Cachet.
a. Saaf Mahavari aims at empowering, educating and mobilising rural and semi-urban women via a menstrual hygiene kit. The portable pocket kit has low-cost sanitary napkins and an informational booklet. This kit can be discreetly worn inside traditional clothes. The distribution of kits will happen through existing retail outlets and beauty parlours, and the kits
will be sold at a nominal cost of ₹10 per kit.
b. TransPotatoes is a smart card for bus commuters. While some passengers can purchase these cards, others with smartphones may download its application that will help them find the best route to commute, and enable them to pay the fare electronically.
c. Village Wash is a mechanical washing machine which uses less amount of water. The machine uses manual power to rotate a drum filled with water and special ceramic pebbles which will rotate with the dirty clothes and help remove dirt, stains and microorganisms.
d. The Marble Jar design focuses on transforming education in public primary schools in India. The objective is to introduce task-based activities in the curriculum of low-resource public schools in India that encourage community-building, self-discipline and curiosity in students. It will involve giving students assignments that will allow community engagement and interaction.
e. The fifth team has come up with a design focussed on microfinance called Sachet Cachet. The aim of the project is to address the ecological and health effects of plastic waste, as well as economic issues with small- quantity purchasing.